If you grew up in America, your idea of an electrical wall outlet is a flat rectangle with two receptacles where one can plug in the cord from a lamp, toaster or other 110-volt gizmo. Here are five products that may change that mental image forever.
Having power-on-tap via a wall outlet is a luxury that's underappreciated. Even so, we're sometimes frustrated because an outlet is located in a hard to reach spot, or covered by a chunk of furniture. Also, it can be a pain to charge a phone or tablet because it requires a cord and a small box (AKA "wall wart") that transforms the 110v current to meet the specifications mandated by the charging circuits in the device.
Today we look at a couple items that help us cope with these headaches. The first four are DIY; the last one requires a professional electrician.
Please remember that with anything that is plugged into an electrical outlet there is a danger that careless or improper handling can result in injury or fire hazard. Please follow manufacturer's instructions and keep away from people who may not behave responsibly.
Addtam Multi-Function Outlet Extender
The Addtam Outlet Extender plugs directly into an existing 110v wall outlet and provides 1800 Joules surge protection, four USB charging ports (including one USB-C) and five 3-prong 110v outlets. The outlets are nicely arranged to reduce issues caused by plug sizes. Ideal for DIY because all you do is plug it in—no wiring or electrical expertise required.
Built with smart technology, the USB ports detect connected devices and deliver optimal charging speed automatically. Compatible with most USB devices, but the USB-C port does not support devices that need 14v to 22v charging voltage, so it's not suitable for charging a laptop computer. Also, it's not useable with GFCI (Ground Fault Circuit Interrupter) outlets commonly found in kitchens and bathrooms.
Contains three surge protection circuits: TVS (Transient Voltage Suppressor), MOV (Metal Oxide Varistor) and GDT (Gas Discharge Tube), with response speed less than 1 nano second, and minimum energy-absorbing capacity of 1800 Joules. A green LED on the front confirms that the surge protection circuitry is working. This is important because the total 1800 Joules capacity is cumulative over its lifetime.
"This product features overload protection, short-circuit protection, over-current protection, over-voltage protection and overheating protection. It will automatically cut power to protect connected devices when voltage surge is overwhelming. Combined with fire-resistant casing—keeping you and your devices completely safe," according to the manufacturer.
Objectively, the protection level of 1800 Joules is on the low end, compared to dedicated SPD (Surge Protection Devices). For example, the 12-outlet, $25 Belkin power strip/SPD provides 3,940 Joules of protection.
For a deeper dive into SPD technology, read our coverage from a few years back: Attention Photographers: You Need an SPD (Surge Protection Device).
The Addtam Multi-Function Outlet Extender is available from Amazon for $16.14.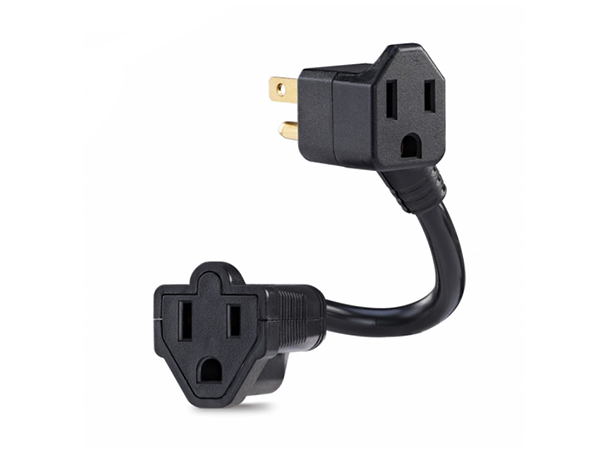 Extension Cord with Passthrough Outlet
This little beauty solves three problems, maybe more. Operation is self-explanatory. Plug one end into a wall outlet. The plug you just plugged in is itself an outlet. These things work great with brick-type AC adapters that hog outlet space or with outlets that are in awkward locations (like behind the dresser or under the bed). Don't be tempted to overload the wall outlet, needless to say.
Available from Amazon, price is $6.97 as Uninex EC1602 brand/model.
Similar (identical?) item is available from B&H Photo for $2.75 as CyberPower GC201.
3-Outlet Lighted Extension Cord
Aside from looking very cool, this lighted extension cord is enormously useful. The 2-foot length is perfect for extending those hard-to-reach outlets. It's indoor/outdoor rated, too, so you can use it on the patio or deck, or when stringing holiday lights. Longer versions (up to 100 feet) also available.
Available from Amazon, price is $12.97.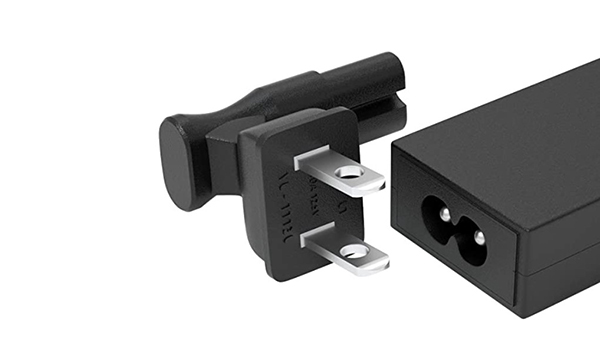 Right Angle AC Power Adapter
This is a slightly better-looking version of a product we've covered in the past. It plugs directly into your battery charger, so you can leave that coil of cable at home when you travel. So simple—it's an elegant solution to a problem you didn't know you had.
Available from Amazon, price is $7.72 each or 2 for $9.39.
A less expensive version is also seen on Amazon for $3.95.
The next product requires installation by a licensed electrician. Not recommended for DIY or handyman projects. (Yes, you can buy it online, but you can also buy an artificial heart online, and you wouldn't be able to install that by yourself, either.)
Leviton T5633-W Multi-Port Outlet
The Leviton T5633 is an in-wall replacement for an existing 110-volt duplex receptacle that provides two 15-amp, 3-prong outlets (standard wall outlets commonly found in modern homes) plus Type-A and Type-C USB charging ports. Not recommended for laptops (it's too slow). Uses popular Decora wall plates.
The Leviton T5633 extends 1.31 inches (33.2mm) into the electrical box in the wall, which could possibly be too tight a fit for some styles or brands of boxes, or boxes that some nitwit crammed full of wires. Your electrician will have a remedy if there is an issue.
Built-in smart chip recognizes individual device's charging requirements to optimize the charge. The Leviton T5633 outlet does not provide Power Delivery (i.e., the ability to handle higher power and allow some devices to charge quickly over a USB connection). The two charging ports deliver a combined total of 5.1 Amps charging current and 25 Watts of power.
"ENHANCED SAFETY – Built-in overcurrent protection helps protect electronics from receiving too much power, which can damage the device," according to product listing on both Amazon's and on Leviton's websites.
The Leviton T5633 extends 1.31 inches (33.2mm) into the electrical box in the wall, which could possibly be a very tight fit for some styles or brands of boxes, or a box that's overcrammed full of wires. Your electrician will have a remedy if it's too big. This is one of the reasons it's wise to forget the DIY route, even if you're a master handyman: professionals know how to deal with surprises.
BTW, Leviton has been in business since 1906 and it's extraordinarily likely you already have several Leviton outlets and/or switches in your home. But once again, put down the screwdriver and call an electrician. You'd look awful with your hair standing on end.
Available from Amazon, $29.97
—Jon Sienkiewicz
(As an Amazon Associate, Shutterbug earns from qualifying purchases linked in this story.)