Photo stock agency Dreamstime is tackling copyright infringement by attempting to "educate" violators in the hope they will become legitimate customers.
The Tennesse-based stock website launched a new infringement tracking tool, dubbed LicenseGuard, earlier this year. But rather than demanding thousands of dollars, it will offer a softer resolution.
If the offender has only infringed once and it is a genuine mistake, then they can simply remove the image. Dreamstime will offer a "special version" of its regular image license that covers post-usage permission. The company will try to bring the infringers on as clients as well as providing education about best practices.
The reason for this approach, according to Dreamstime, is that most of the infringements it sees are accidental. Examples can include people who purchased themes that used stock images, individuals who don't understand copyright law, and those that did not understand the license.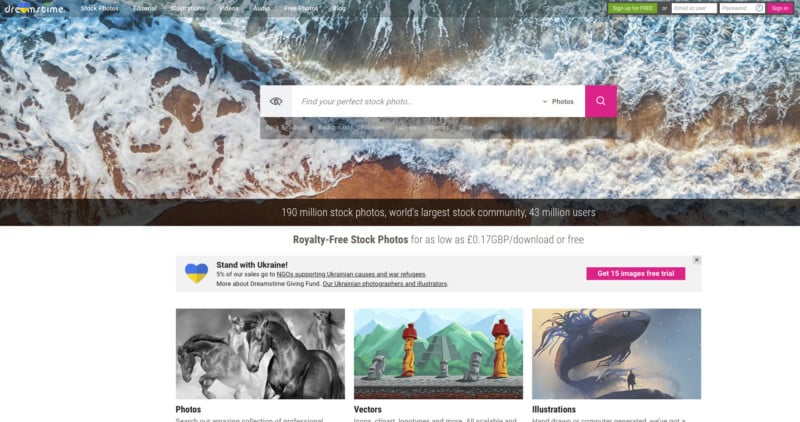 The company sees these publishers as ideal long-term customers and believes that the current approach, taken by some stock agencies, is adversarial and scares people away from the industry.
"A staggering percent of the images used online is misused, whether we are talking about willfully unlicensed or accidental usages, one-time or repeat offenders. Establishing Small Claim Courts (in the U.S.) has been a huge step in enforcing intellectual property rights for content creators," writes Dreamstime CEO, Serban Enache.
"Still, infringements are hard to handle internationally, and legal proceedings are difficult to handle by individual creators. We offer a tool that builds upon an already existing image catalog and reaches worldwide to educate on copyright and supply reasonable settlement solutions before moving to further legal actions for content creators and infringers."
The software, LicenseGuard, will scan the internet for Dreamstime users' photos and flag images that are not licensed. Similar to PicScout, Pixsy, CopyTrack, and PhotoClaim, but rather than demanding huge sums, it will offer a more gentle resolution.
But that is not to say the company is completely ruling out litigation. Plagiarism Today reports that legal action will be considered against repeat offenders who blatantly disregard previous warnings.
Getty Images famously got its licensing practices badly wrong after the photo giant demanded a photographer pay for the use of her own pictures after she had donated them to the public domain. The company subsequently started to sell them on its website.