For the last several years, manufacturers have repeatedly blamed smartphones as the reason the camera market has collapsed so spectacularly, and a recent experience has me now fully understanding this.
Last weekend, I attended the Southport skate jam and because the weather in England is unusually splendid, I decided to bring along my camera: a Canon 5D Mark III . I also brought along my friend Paul, who is not a photographer but he is in possession of a Samsung Galaxy S22 Ultra.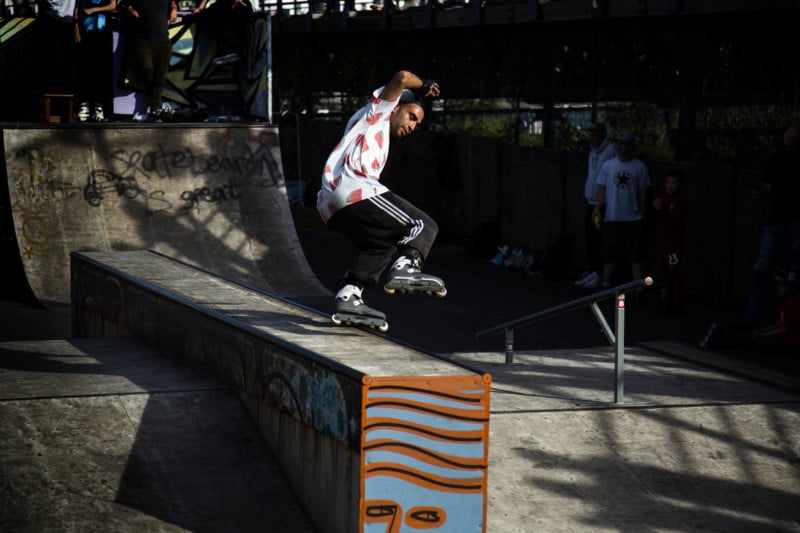 It was a great day out, and I had a 24-105mm f/4 attached which I sometimes swapped out for a ridiculously wide 8mm fisheye. I moved around a fair bit, looking for good angles while my friend Paul mainly stood by our bags.
He did, however, whip out his Samsung phone and take some videos, but he also took a photo. In fact, we both got pretty much the same photo of rollerblader Kai Simpson executing an incredible stall on a narrow piece of vertical metal.
Simpson was wearing a green T-shit which contrasted beautifully with the blue sky and his daredevil antics created an excellent picture opportunity, one that Paul noticed as well.
After the day ended, Paul sent me the picture he captured of Simpson and I was blown away. Using the Snapseed app to add some blur and vignette, he had captured a stunning image that had taken him "a minute or two" to edit.
I was shocked at how good the shot was compared to the one I captured, especially considering that I used a dedicated camera. Of course, his photo had been the subject of some artificial intelligent-powered (AI) editing, as smartphone photos rely on, but it and the minor Snapseed edit perfectly adjusted shadows and highlights to create an image that had some particularly good dynamic range.
I had exposed for the sky, leaving the shadows dark, which is something I tried to attend to when I ran it through Photoshop and could do, after some work.
But that's just it: Paul had captured an image that looks incredible, especially when viewed on a phone — where most photos are viewed these days — and it even stands up pretty well blown up on a computer screen.
And to reiterate, Paul does not consider himself to be a photographer.
Looking at what he captured with his phone, I'm left wondering what the point of me bringing my gear along was. I may as well have shot it on my phone and saved the hassle of taking the pictures with my camera and going through the standard editing process. Could I get a similar picture? Sure, but it would take me a lot longer to get there.
Paul sent me a second image, this time it was actually a screengrab from a video he had taken. In this photo, the quality is clearly worse, but what the AI had done with the dynamic range still really impressed me.
Again, I also got a photo of the same scene where I exposed for the sky and, once again, the shadow area is not great. In fact, the whole image feels a bit flat. Perhaps I should have pushed the image more, the way the AI has done on the Samsung smartphone because, apparently, that's what the people want.
I know that the Galaxy S22 Ultra was helped by the fine weather. Had it been an overcast day or had we been shooting in the evening, I might have been able to easily best what the smartphone could do by using strobes, which would have elevated my photos to a place that smartphones can't quite get to.
I am also aware that a 5D Mark III is not the "latest and greatest" iteration of a full-frame camera. But it is still a full-frame camera, and I'm sure there are many photographers like me that are still using it and cameras like it on the daily. The idea that a telephone wielded by a non-photographer is able to take photos that rival it is incredible.
Given the sunny weather and the effort of lugging my DSLR around and then later having to edit the photos through Photoshop, I can't shake the feeling that there wouldn't have been a huge amount of difference in the photos if I'd used Paul's phone instead.
Looking at how close Paul's photo is to mine really highlights for me what is going on with the camera industry right now and how we as camera enthusiasts are in just as awkward a position as the companies making cameras. Point and shoots are dead thanks to how good smartphones have become, and arguably are proving that they're capable of punching well above their weight.
I'm a full supporter of owning a full-size standalone camera, but this experience really shook me. The gap between smartphones and cameras is shrinking, and I'm not sure we photographers are ready.