PGYTECH just added a camera shoulder bag to their OneGo lineup of photo bags and backpacks. Here is a peek inside.
Considering the intended purpose of the PGYTECH OneGo Camera Shoulder Bag, it neatly satisfies the need for a compact but versatile bag for drone, video or still photography. Creators, take note.
Clean, simple and fashion-neutral features add up to solid cosmetics. Note that the outer material is a highly water-resistant, treated fabric, and the bottom has additional abrasion resistance.
PGYTECH OneGo System
The PGYTECH OneGo System includes one 18L photo backpack, a 3L camera sling and a new camera shoulder bag that comes in two sizes, 6L and 10L. When we reviewed the OneGo Photo Back from PGYTECH last year, we gave it high marks for outstanding construction, great cosmetics and unparalleled accessibility to the contents. You can read the review here.
Say hello to the PGYTECH marketing department. The innovative and enthusiastic group of young people who conceive, design and produce PGYTECH products add powerful, intangible value to the brand.
The PGYTECH Beetle Clip offers a new take on a familiar concept. Attach a camera to the strap on a backpack or camera bag, or to your belt. The mounting base (on the right) is Arca-Swiss compatible and attaches securely to the bottom of your camera.
Who is PGYTECH?
Dedicated to photography and everything drone, PGYTECH offers the innovative Mantis Vlogger Tripod ($149) in addition to drone filters and accessories, hard and soft camera/drone bags and cases, and an assortment of camera clamps and tripod miscellany. Their Beetle Camera Clip ($59) takes a new approach to a common piece of hardware. Check out their website to view a solid assortment of OneGo and OneMo camera bags, photo backpacks, et cetera.
The 6L (i.e., 6 Liter) OneGo Camera Shoulder Bag is roomy enough for a camera and two or three lenses, and measures 11.8 x 9.4 x 5.3 inches. The 10L model is 13.9 x 11.0 x 5.7 inches.
How I Evaluate Camera Bags
I routinely consider 10 important aspects of every bag I review. All 10 are all equal in my mind, because every individual buyer ranks his or her priorities differently. The 10 characteristics are as follows: Purpose, Comfort, Accessibility, Capacity, Protection, Cosmetics, Durability, Innovation, Price, and (#10) Intangibles.
Like the OneGo Photo Backpack, the PGYTECH OneGo Camera Shoulder Bag provides unparalleled accessibility to the contents.
As you can see, some of these are 100% subjective. The only facet that needs explanation here is Purpose. I narrow this category beyond what the manufacturer may propose; a bag suitable for fast, nimble street shooting is probably not in the same category as a bag meant for day-long treks or covert urban maneuvering.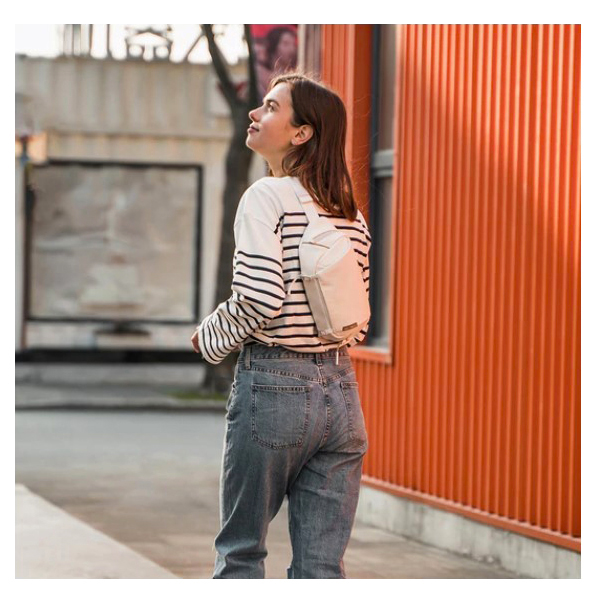 PGYTECH offers the OneGo Shoulder Bag in two sizes (6L and 10L) and four colors, the OneGo Photo Backpack and the OneGo Solo Camera Sling shown here. The Solo Sling is 3L, large enough for a small camera or a couple lenses, and small enough for all-day wear.
Construction, Durability and Protection
All PGYTECH products are very well made using top quality components. The PGYTECH OneGo Camera Shoulder Bag is sturdy and durable and should provide a lifetime of regular use. The padding is adequate for most situations despite the overall light weight (6L weighs 25.4 ounces, 34.2 for the 10L).
Although this is the smaller (3L) PGYTECH Solo Sling, it shares many of the same innovations with other members of the OneGo lineup, including an easy-to-use system for identifying fresh and exhausted batteries.
The PGYTECH OneGo Camera Shoulder Bag is very comfortable to carry, even with a travel tripod lashed to the bottom. The adjustable strap features a wide, soft shoulder pad.
Conclusion
The PGYTECH OneGo System and their Camera Shoulder Bag in particular deliver exceptional innovation, excellent quality and full value for your dollar. Visit them online or shop at the PGYTECH store at Amazon.com.
—Jon Sienkiewicz
(As an Amazon Associate, Shutterbug earns from qualifying purchases linked in this story.)