WotanCraft has established themselves as a top-tier brand that offers unique and desirable camera bags, photo backpacks, bicycle bags, business/everyday carry bags and premium watch straps. The WotanCraft Trooper combines outstanding styling with useful features and highly durable build quality.
We reviewed the WotanCraft Pilot camera bag last summer (link here) and gave it high praise. It's one of the best looking camera shoulder bags a photographer or urban hiker can carry.
The WotanCraft Trooper, size L, offers a host of features that we appreciated. The exterior dimensions are 17 x 6.3 x 10.8 inches (43 x 16 x 27.5 cm) and empty weight is 3.1 pounds (1.4 kg). Construction quality is extraordinarily high and the materials are all of the highest quality.
Open the WotanCraft Trooper by lifting the zipper-free, fast-access cover flap. Secured by magnets and, if necessary, further sealed by non-removable leather straps, the cover flap opens wide so you can reach the innards with ease.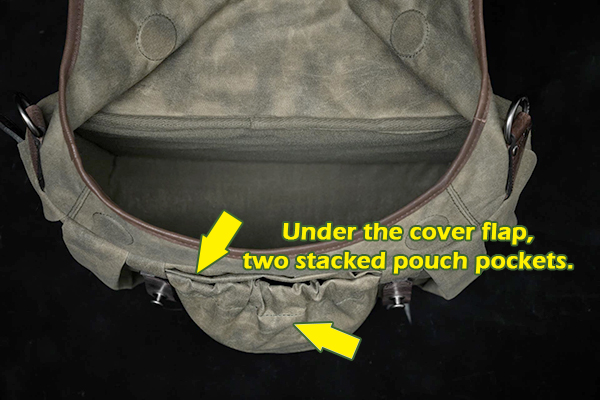 Lifting the flap exposes two stacked front pockets. The most exterior pocket has an elastic neck and is perfect for items you need to grab quickly like keys or a cellphone. The innermost pocket fits an iPad mini or something about 7.5 x 6 inches (19 x 15 cm).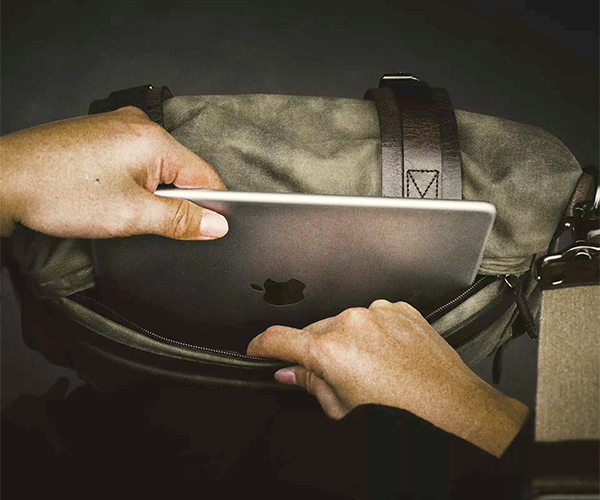 Inside the WotanCraft Trooper, repositionable padded dividers protect the contents. There's also a laptop divider that works with most computers up to 15 inches. The interior measures 14.4 x 5.1 x 10.6 inches (37 x 13 x 27 cm) and provides about 12 L (Liter) capacity, enough for a DSLR  or mirrorless body, three lenses and a strobe (without the laptop divider in place).
One Liter (L) equals 61 cubic inches, slightly smaller than a cube that's 4 x 4 x 4 inches. This means 12 Liters equates (roughly) to a cube that's 9 x 9 x 9 inches. Actual measurements shown above.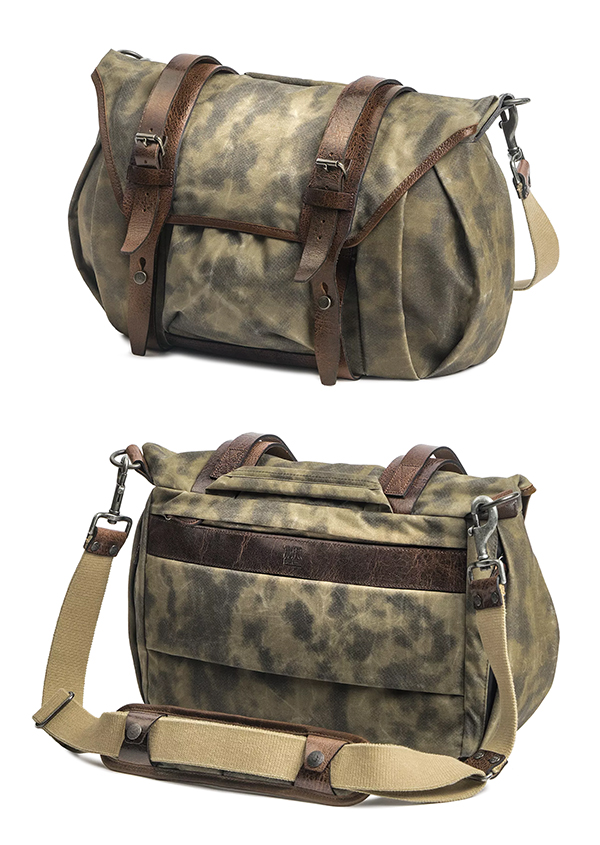 On the back of the WotanCraft Trooper is a wide, sturdy slip-through strap for attachment to luggage wheelies and a large, deep pocket that closes with a zipper. We find zippered slash pockets hidden on either end that are positioned to resist intruders. They are indeed covert and quite secure, although rather small.
The front leather belt straps can be used to further secure the WotanCraft Trooper. When fastened, they could hold a jacket, small tripod, or large hoagie, grinder, sub, wedge or whatever a long sandwich is called in your area. Not recommended for hot dogs unless they are genuine Chicago-style franks (no ketchup). The detachable, adjustable shoulder strap includes a shoulder pad that's filled with latex foam for all-day comfort.
 Exterior fabric of the WotanCraft Trooper is nylon 6,6 yarn Cordura 500D tear-proof, water resistant waxed canvas. The interior material includes durable medical-grade microfiber which is less likely to fuzz after contact with Velcro. The cowhide leather straps and trim are "battle distressed" for a more rugged appearance. The WotanCraft Trooper is equipped with YKK water resistant zippers, and all hardware is zinc alloy and brass.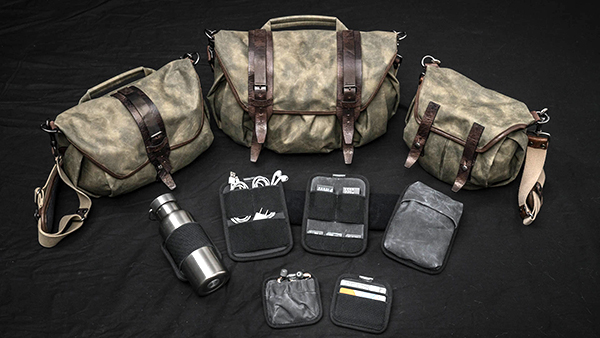 WotanCraft Trooper camera bags in S, L and M sizes (left to right), shown here with optional storage/organizational accessories.
Conclusion
In summary, the WotanCraft Trooper is extremely well made from premium, high-end materials. Available in three sizes, you are sure to find one with the capacity to meet your needs. And besides being ruggedly handsome, they are highly functional and should provide a long lifetime of daily use.
Founded in 2009 in Taipei City in the northern part of Taiwan, WotanCraft has become one of our favorite brands. The WotanCraft Trooper comes in size L (12 Liter), as reviewed here, in green canvas with brown leather. Also available, size M (10 Liter) and size S (5.8 Liter) in green/brown or gray canvas with black leather. Available for purchase directly from the manufacturer, cost of the WotanCraft Trooper including international shipping is $299 for the Large size , $259 for Medium and $199 for Small.
—Jon Sienkiewicz
(As an Amazon Associate, Shutterbug earns from qualifying purchases linked in this story.)