Tamron just announced an 8X lens for Sony full-frame mirrorless cameras that starts at 50mm and zooms to 400mm, widening the range of creative applications compared to telephoto zooms that begin at the 100mm focal length. In addition to beginning at 50mm (the established "normal" or "standard" focal length for full-frame cameras) the new ultra-telephoto zoom focuses as close as 9.8 inches, rendering a magnification ratio of 1:2 (one-half life size).
Overview & First Impressions
The Tamron 50-400mm f/4.5-6.3 Di III VC VXD (Model A067) is a close-focusing ultra-telephoto zoom lens, and that's an understatement. Shutterbug had a chance to run this new zoom through the gauntlet. Here are the results.
A number of features differentiate the Tamron 50-400mm ultra-telephoto zoom from other tele-zooms, but the most prominent is the one-two punch of the 50mm starting focal length that focuses to one-half life-size (1:2 ratio). 50mm has long been considered the normal focal length for 35mm film and full-frame digital cameras, and in the early years of SLRs most cameras were sold with a 50mm lens. In fact, for several years the early Leica 35mm cameras were equipped with 50mm optics.
A 400mm zoom that starts at 50mm instead of the traditional 100mm focal length allows the photographer to change their approach to a scene, include more background with nearby subjects and refresh their creative expression. Also, the 50mm to 400mm coverage includes the 85mm and 90mm intermediate zoom positions, the range many professionals consider the ideal focal lengths for portraits. (To make clear, 100mm is great for portraits, but the ability to shoot at 85mm without changing lenses is that much better.)
While most 100-400mm zooms focus to 2.5 to 3.3 feet (30 to 40 inches), the Tamron 50-400mm gets as close at 9.8 inches when set between 50mm and 70mm. These settings deliver a magnification ratio of 1:2, known as "one-half life-size." Tamron modestly calls it "half macro." Translated, a subject one inch long will appear one-half inch long on the image sensor or film frame. This reinforces the superior versatility of the new Tamron 50-400mm ultra-telephoto zoom.
Furthermore, at a mere 7.2 inches long the Tamron 50-400mm f/4.5-6.3 zoom is one-half inch shorter than their 100-400mm f/4.5-6.3 zoom—how's that for a twist? And speaking of twists, you can scoot from 50mm to 400mm with a short 75° rotation of the zoom ring. That makes it much faster to change image composition—and changing composition without changing your distance from the subject is one of the key benefits of any zoom lens.
When used on a Sony mirrorless camera that contains an APS-C size sensor, the Tamron 50-400mm becomes a 75-600mm f/4.5-6.3, a formidable beast indeed. On a Sony Alpha 6000, for example, or any Sony NEX model camera, you have a great portrait to crazy-long ultra-telephoto zoom.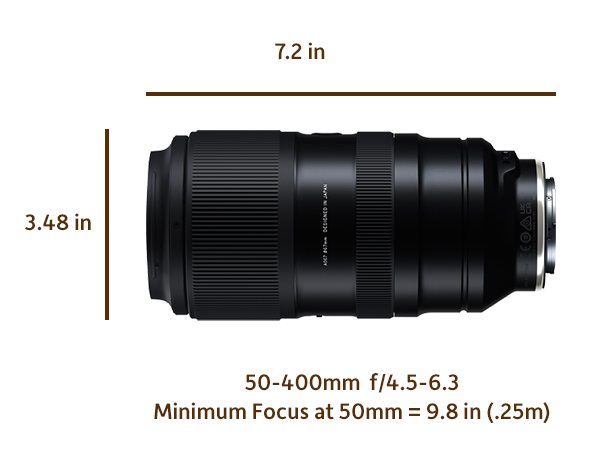 Specifications & Features
Update and Customize via Tamron Lens Utility App
Tamron added a USB Type-C port to the 50-400mm zoom and created the Tamron Lens Utility app (mobile and desktop versions) that allows users to connect their lens to their computer or smart phone to directly update firmware when necessary, and customize lens functions to suit their shooting style. For example, users can select the Focus Limiter function and limit the focus search range of the AF.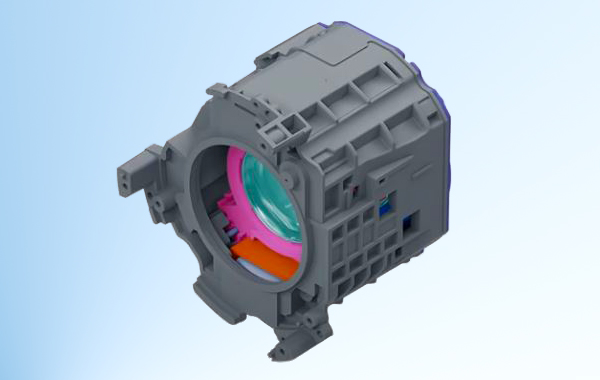 Autofocus Design
The 50-400mm f/4.5-6.3 uses the Tamron's proprietary VXD (Voice-coil eXtreme-torque Drive) linear motor focus mechanism. This system is very fast and precise and provides outstanding focus tracking. Since tele zooms of this ilk are often used for action sports and wildlife, the focus tracking once again adds to the lens's versatility. The VXD autofocus mechanism is very quiet, making the new zoom highly suitable for video use, where extraneous noise can ruin a good clip.
Tamron VC Image Stabilization
The lens is equipped with Tamron's proprietary VC (Vibration Compensation) mechanism. VC enables shake-free telephoto shooting and is extremely useful when shooting handheld in low-light conditions or at slower shutter speeds. Videographers will appreciate the incorporation of AI technologies that trigger the lens to choose the appropriate stabilization characteristics for videography at focal lengths of 100mm or less.
Uniform 67mm Filter Size
At first blush, having a 67mm filter thread may seem minor. But it is significant because 67mm matches the filter size of several of Tamron's mirrorless camera lenses. If you own other Tamron lenses and have already purchased ND, Polarizer or other filters, there's no need to reinvest in a new size. And as a bonus, you can interchange lens caps, a factor that makes it more convenient in the field when switching lenses.
Optional Arca-Swiss Tripod Mount
If you plan a good deal of tripod use, I recommend that you buy the optional Tripod Mount. The Arca-Swiss compatible shoe fits the mounting channel on nearly every tripod currently made. Attaching the camera to a tripod using the Tripod Mount reduces weight-related stress on the camera's lens mount and shifts the center of balance backward for a more stable setup. It also provides a convenient carrying handle when off the tripod.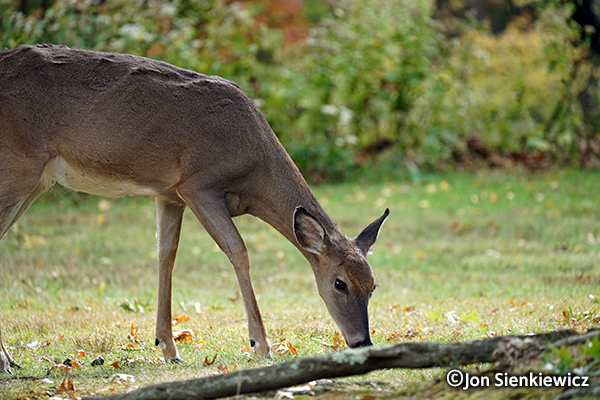 Weather Protection
Strategically placed seals provide moisture resistance, and a coating of fluorine on the front element makes it easier (and safer) to remove dust and fingerprints. As I repeat in every review of every product that mentions Moisture Resistance, think of it as sunblock. While it provides considerable protection, you can still get burned if you're not careful.
Leverages Sony Camera Features
The Tamron 50-400mm takes advantage of many of the powerful features built into certain Sony cameras. While the list varies from model to model, this includes Fast Hybrid AF, Eye AF, Direct Manual Focus (DMF) and optical corrections (shading, chromatic aberration and distortion).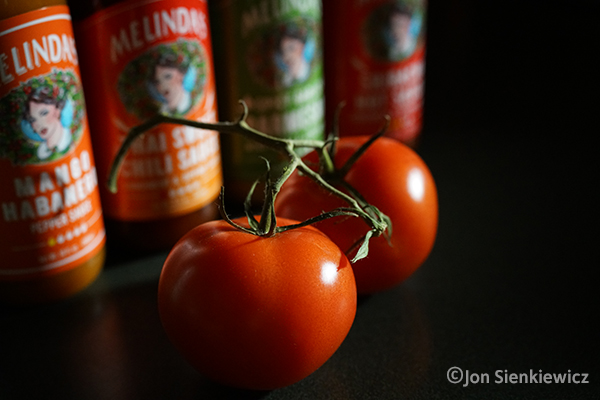 Exterior Construction: Fit & Finish
The outside finish is new (in line with recent Tamron lenses and better than previous versions) and features a shiny black surface that's abrasion and fingerprint resistant. They've also improved the grip by changing the pattern of stripes on the focusing ring and the extra-wide rubber zoom ring.
Overall construction is rock-solid and the lens feels good in the hand. At 40 ounces it's no flyweight, but it's well balanced and easy to handhold. This product was obviously made with precision and care. It comes with a 6-year warranty (when purchased from an authorized dealer) and should provide a lifetime of rugged use.
Optical Construction

Featuring 24 elements in 18 groups, the optical design includes XLD (eXtra Low Dispersion), LD (Low Dispersion) and Hybrid Aspherical lens elements that effectively control aberrations (including axial chromatic aberrations). Glass surfaces are enhanced with Tamron's own BBAR-G2 (Broad-Band Anti-Reflection Generation 2) to minimize ghosting and flare and improve results under backlit conditions.
Performance Summary
This lens is extremely fun to use. I rarely venture out for ad hoc picture taking with just a long tele zoom because I find 100-400mm—and sometimes even 75-300mm—too limiting. I always end up being forced to back up to get a decent frame around a large subject. And on the other end of the issue, I can't get close enough to small subjects. The Tamron 50-400mm ultra-telephoto zoom solves both of these complaints. It functions perfectly as a 50mm lens (the focal length I grew up with) so I can compose more readily. And when I want to get in close—really close—I have the 1:2 macro option.
In addition to being fun, it's satisfying. The sharpness is amazing and other optical performance measurements, including contrast, color fidelity and edge-to-edge resolving power throughout the zoom range, are superb. While I personally believe that, as a creative element, bokeh is overrated, I know I'm in the minority. The Tamron 50-400mm f/4.5-6.3 delivers excellent bokeh.  
Conclusion
If you own a Sony full-frame mirrorless camera, the Tamron 50-400mm f/4.5-6.3 should be on your shopping list, especially if you do any wildlife, action sports or portrait shooting. It provides an 8X zoom range, fast and accurate autofocus and extremely sharp results.
It won't replace my 70-180mm f/2.8 Tamron zoom as my all around favorite tele-zoom, but it offers a number of distinct advantages, starting with the longer 400mm telephoto setting. It also offers a wider option at 50mm. Add to that the 9.8 inch minimum object distance and it deserves a place in my camera bag. It will probably be my next purchase.
You can view an excellent gallery of sample images, complete with EXIF data, on Tamron's website. And you can watch Tamron's short promotional YouTube video by clicking here.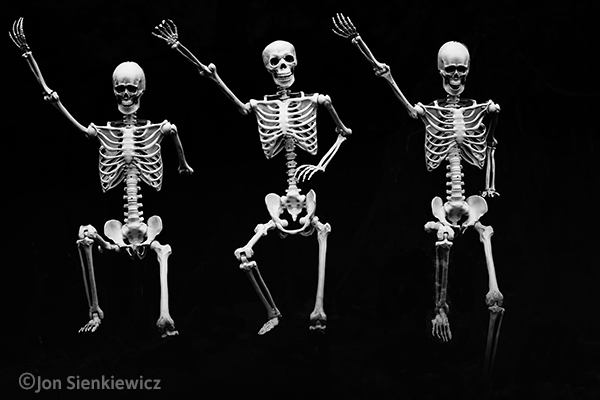 Price & Availability
The Tamron 50-400mm f/4.5-6.3 Di III VC VXD (Model A067) is available now and sells generally for $1299. It's available from Amazon today for $1299 and most likely from your local camera store. If you're lucky enough to have a local photo shop, show them some love.
—Jon Sienkiewicz
(As an Amazon Associate, Shutterbug earns from qualifying purchases linked in this story.)